DCMDC is a LED dimming card.
This card is based on the ideal principle of speed control of a DC System based on chopping. Hence use of this card allows the system to have a smooth regulation of illuminations.
DCMDC is combination of a wire wound potentiometer along with a electronic card with special coating to sustain in dusty and high temperature atmosphere.
In an extremely compact size of 40 X 40mm card and with a wattage rating upto 40 watt with maximum voltage input rating being 24Vdc it is ideal product to use it in a any small instrument or large panels.
With DC input from Adaptor or SMPS this card is even well suited for dimming of LED illumination systems.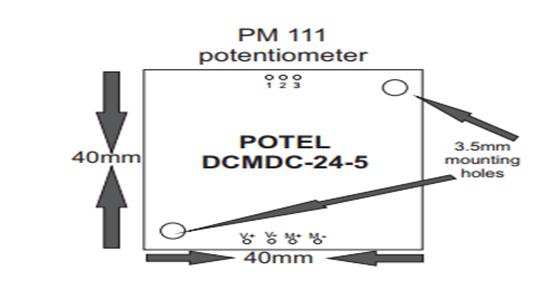 | | |
| --- | --- |
| Input voltage range | 6-24Vdc |
| Current consumption of the card | 500 mA |
| Maximum Output current | 5Amps |
| Maximum wattage | 40 watt |